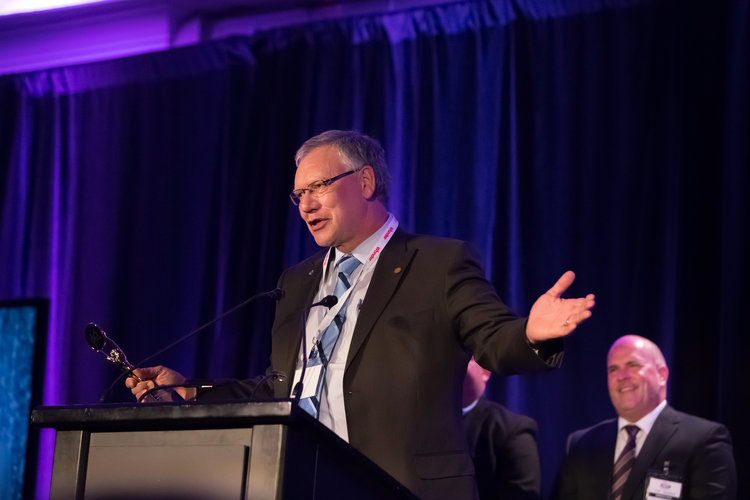 Celebrating 70 years- Lifetime Achievement Award
President and CEO, Mr. Dave Powell, recently attended the 2018 DCI Business Summit in Toronto. At that event, he was presented with a very prestigious award and we would like to take this opportunity to tell you about it!
The DCI Lifetime Achievement Award recognizes an individual who has been exemplary within the food retail industry. Award winners have either pioneered a successful venture, or have "done the impossible."
It all started with a small retail store establish by his father, Herbert J. Powell, in 1948. Now, 70 years later, Mr. Powell has taken that vision to unimaginable heights, never losing sight of the importance of pushing forward while keeping the business local, as well as family and community oriented.
Today, the Powell Group of Companies has grown to include two successful supermarkets (Powell's Supermarket Bay Roberts and Carbonear), Golden Crust Bakery, Dave's Service Centre, Atlantic Restaurant Supplies, Atlantic's Best Meats, and Atlantic Grocery Distributors (AGD) – the largest independently owned and operated wholesale distributor in Newfoundland and Labrador, with a 200,000 square foot warehouse facility serving more than 2,000 customers across the province.
By building on the business his father started seven decades ago to create the group of companies you see today, Mr. Powell, along with his family and large team of dedicated employees, have done what many would call "impossible."
Congratulations on receiving this well-deserved honour from your industry peers and for reaching such a remarkable milestone! Proudly serving Newfoundland Labrador for 70 years- here's to many more! Read More